Look at that stack of chocolate + coconut goodness. Are you in love? Because I am. These energy cookies were a complete accident. I was attempting to make a healthy girl scout cookie (you know, the one that contains caramel, chocolate and coconut) but I got a little carried away with the raw cacao and the mixture turned out way too chocolaty. Not a bad problem to have. It's just that the initial flavor I was attempting to capture was snuggled a bit too closely by an overzealous "pinch" of cacao.
As I watched the mixture churn from caramel-colored to a rich chocolate brown in the food processor, I initially frowned. Well there goes a perfectly good mound of dates, cacao and coconut. However, upon tasting the "accident," I realized that it was actually a moment of cacao-covered serendipity. The best kind of serendipity if you ask me.
Dates, cacao, coconut flakes, fresh vanilla bean, oats, and chia seeds are tossed into a food processor, formed into cookies, and chilled to perfection. The result is an ultra-fudgy and dense cookie that is filled with antioxidants and packs a powerhouse punch of energy. If you can eat just one of these, you deserve a willpower badge of honor. If your tastebuds are anything like mine, you'll want to double the batch or you'll be making these again within 48 hours of whipping together your first batch. These energy cookies are great for snacking on in between meals or devoured post-workout; however, they are absolutely delicious enough for dessert.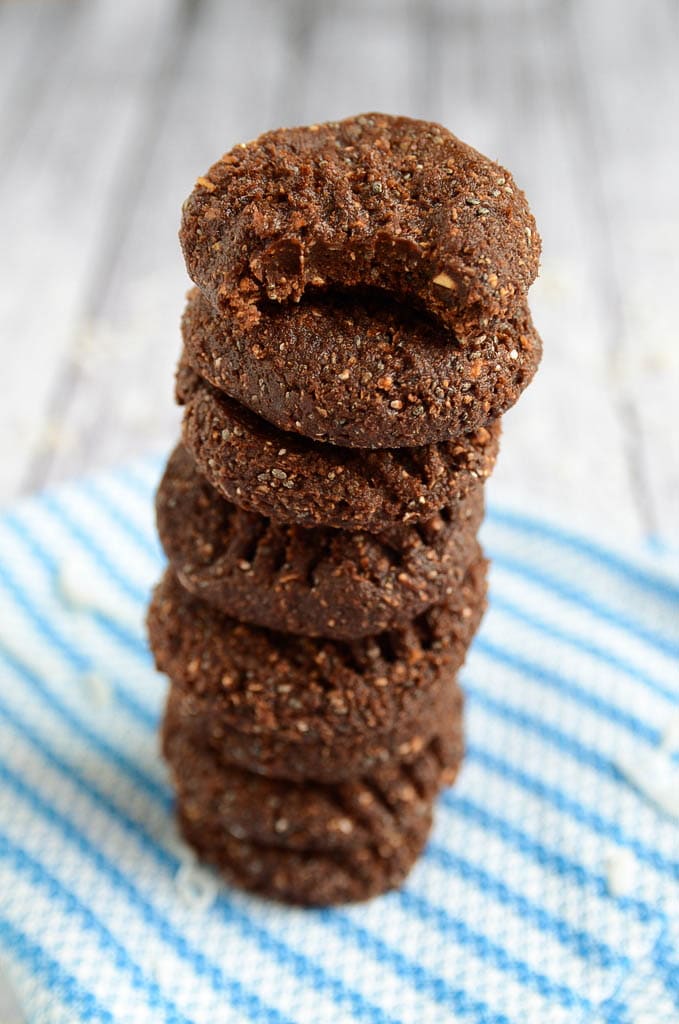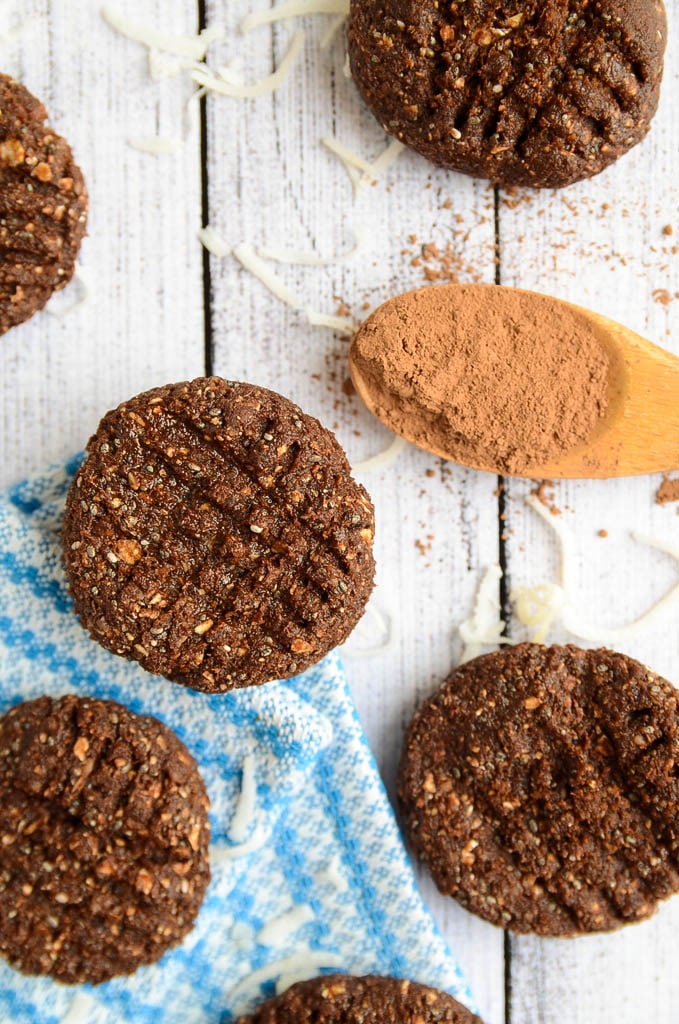 Coconut-Chocolate Energy Cookies
Dates, raw cacao, coconut flakes, vanilla bean flecks, oats, and chia seeds are blended together, formed into cookies, and chilled to perfection. These energy cookies will have you coming back for seconds, thirds, and fourths.
Recipe type:
Dessert, Snack
Ingredients
1 cup packed dates, pitted
1/4 cup raw cacao powder
1/2 cup raw coconut flakes
1 vanilla bean, cut lengthwise and seeds scraped
1/3 cup rolled oats
2 tablespoons chia seeds
Instructions
Add the dates, cacao powder, coconut flakes, vanilla bean seeds, rolled oats, and chia seeds to a food processor.
Process the mixture for 2-3 minutes. The mixture is more on the wet side, so it probably won't roll into one big ball within your processor but that is okay.
Line a small baking sheet with parchment paper.
Form the mixture into 10 small balls and drop each on the parchment paper. If the mixture is sticking to your hands, dab some water or coconut oil on your hands to repel the stickiness of the dates.
Flatten each ball into a cookie shape using the back of a fork.
Pop the baking sheet in the freezer for 30 minutes to allow the cookies to set.
Enjoy and store leftovers in the freezer.