I'm sorry for my delay in getting this post up this morning! I woke up energized and ready to clack away on my keyboard on this first day of summer break only to hear a loud *pop* followed by the sound of every electronic device powering down in our condo.
After a quick survey, it became clear that the power was blown out in our entire building and much of our block, so I'm writing this post from the comforts of my favorite neighborhood coffee shop. As ridiculous as it might sound, I used to avoid going to coffee shops by myself, and I also used to fear leaving the house without makeup. As part of my summer plan, I'm doing 1-2 things I fear each week, so today's no-power adventure fits into this theme quite well. I'm currently sitting by myself at a coffee shop, make-up free and hair a total mess (no power = no blow dryer), and I'm at peace with it. Erasing fears one stray hair at a time.
Last week's fear-squashing event: attending a blogger cocktail party by myself. In the days leading up to the event, I was terrified and had about a million "what if" scenarios running through my head. I almost talked myself out of going, but ultimately realized that it was easier to just do it go and face my fears than deal with the "should haves" and regrets had I not gone. So I went and nearly left within about 5 minutes of arriving because everyone seemed to know everyone else, and I had flashbacks to being the new girl at school. However, I swallowed my fear, peeled myself away from the wall, and inserted myself into a conversation between two other bloggers. After that initial conversation, the rest just seemed to flow, and I ended up meeting a lot of wonderful women and stayed until the end of the event.
That small success was so encouraging, and I'm looking forward to conquering many other fears this summer. What are the fears you're currently trying to tackle? Here are some of my favorite Pinterest inspiration images to keep steadfast on the fear-facing path:
From fear to smoothies and back again.
This smoothie recipe is packed with antioxidants, vitamins + minerals, and it tastes like dessert. Thick, creamy, chocolaty, and malted in  flavor, it's the best thing to happen to my morning breakfast routine in quite some time.
I talked about the health benefits of maca powder in this post, and I've teetered between love + obsession for the superfood root powder ever since. It's my favorite smoothie add-in because of the awesome burst of energy it provides and the way it cocoons other ingredients in its delicious malt flavor. Throw a bit of raw cacao or cocoa powder into the mix, and you've paved the way for a chocolate malt. Who doesn't want a superfood chocolate malt?
To keep this smoothie incredibly thick and shake-like, the mixture is blended in a food processor with just enough water to get it churning. With just frozen bananas, maca powder, cacao, dates, and vanilla extract, you'll end up with an incredibly nourishing and satisfying smoothie. In addition to the nutritional perks of the maca, raw cacao also boasts a hefty number of health benefits thanks to its flavonoid antioxidants (e.g., cancer prevention, improved circulation, reduced LDL, etc). A meal that nourishes cravings and health? I'll take it.
You can make this smoothie for breakfast as an energizing start to your day or for dessert as a  health-enhancing treat. You really can't go wrong with this one, and it's so easy to toss together that there's no reason you shouldn't be enjoying this breakfast in dessert's clothes on the regular.
Sound Bite | "My Better Self" by Tennis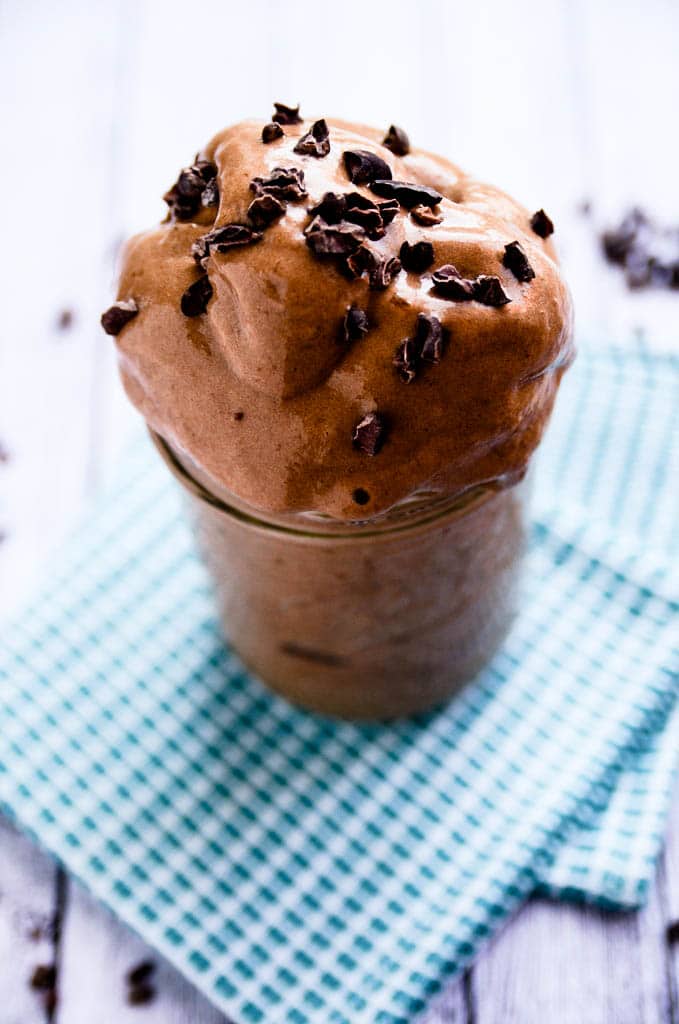 Chocolate Malt Superfood Smoothie
Author:
Ashley Melillo | Blissful Basil
Ingredients
2 frozen bananas
1 1/2 tablespoons maca root powder
1 tablespoon raw cacao powder or 2 tablespoons cocoa powder
1 medjool date, pitted
1 teaspoon pure vanilla extract
2-4 tablespoons water
optional: cocoa nibs
Instructions
Add the frozen bananas, maca powder, cacao powder, date, and vanilla extract to a food processor. Begin processing and add in 1 tablespoon of water at a time to get everything moving. You want to keep the mixture as thick as possible, so be patient as the small amounts of water encourage the mixture to process. Process until a thick and smooth mixture forms.
Scoop the mixture into a glass and pile it high. Top with cocoa nibs, if desired.
Serve immediately with a spoon and a straw.