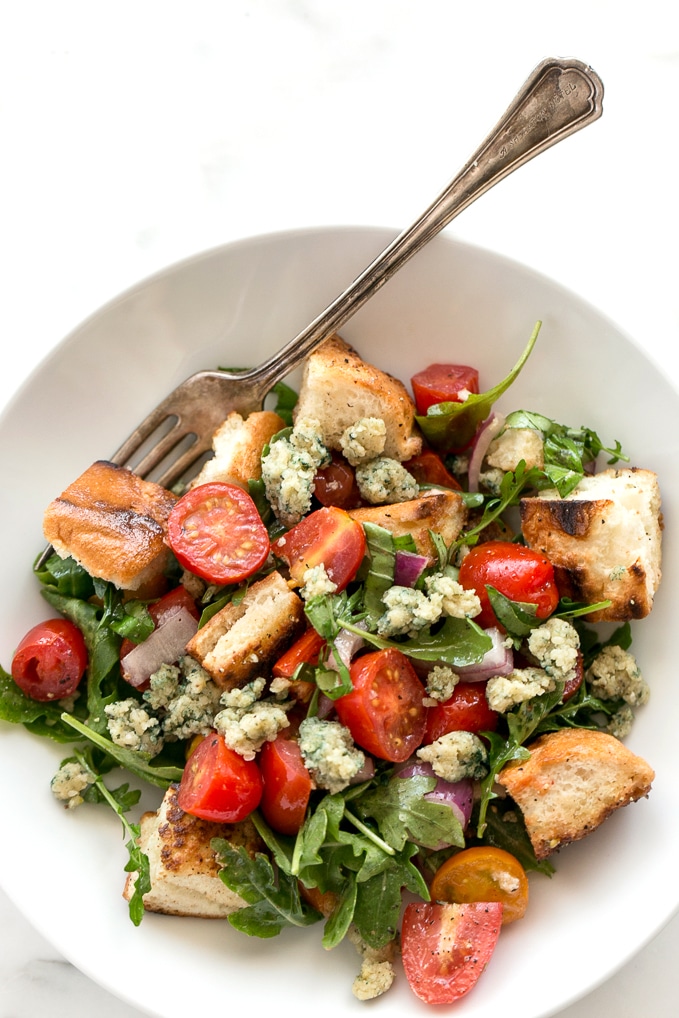 This post is sponsored by Manitoba Harvest. All thoughts and opinions are 100% my own.
Let's chat about this cherry tomato panzanella with hemp seed blue cheese for a moment.
Panzanella, a Tuscan summer salad, is predominantly made of tomatoes and bread. Onions and basil often make their way in too, as do other ingredients (e.g., arugula), and the entire salad gets dressed in a tangy vinaigrette. Traditionally, it's made with cubes of stale bread, however, it can also made with homemade, gently toasted croutons.
This fresh summer salad is near and dear to my heart for so many reasons. Here are a few of the many. . .
1| It reminds me of warm summer nights on my mom and stepdad's back patio. It's a dish they've made time and time again with homegrown tomatoes and the most glorious basil that's grown in an antique half-barrel planter in their backyard.
2| It's packed with tomatoes and basil—two of my forever favorites.
3| By nature of its Italian origins, it evokes all sorts of funny, sweet, and sentimental memories from our honeymoon in Positano, Italy.
Like so many Italian dishes, panzanella is only as delicious as the ingredients that go into it. When there are so few main ingredients, each one is offered the chance to shine. Just how brightly the ingredients shine together relies entirely on how brightly each shines on its own.
On that note, word to the wise panzanella preparers: use the freshest, ripest, most flavorful tomatoes, basil, olive oil, etc. you can get your hands on. And by all means, if you've got some fine looking heirloom tomatoes sitting in your farmers' market bag, go on and use them instead of cherry tomatoes. This is your panzanella party, I'm merely outlining a suggested guest list. Speaking of which, here it is. . .
Cherry tomatoes, olive-oil croutons, baby arugula, red onion, fresh basil, homemade red wine vinaigrette, and a particularly grand guest of honor. . .
Hemp Seed Blue Cheese. Allow me to introduce you. . .
Am I crazy or is this one heck of a vegan blue cheese knockoff? It's been over two years since I've eaten the "real" stuff but from what I remember, it looks a whole lot like this. Moove over, dairy-based blue cheese. Ha, get it? Moove over? Just laugh once and I'll stop. Pinky promise.
To make this dairy-free (and protein-packed) blue cheese, you'll start by grinding whole raw cashews into a fine meal. Then, you'll add Manitoba Harvest Hemp Hearts, fresh lemon juice, tahini, nutritional yeast, white miso, and sea salt. Pulse until well combined and the mixture begins to pull into a soft mound within the food processor.
Then, scoop it into a small bowl and either: 1| sprinkle a bit of spirulina powder on top and use a toothpick to cut it throughout the "cheese", creating a blue-green marbled effect and then freeze for 20 minutes to firm up. OR 2| Skip the spirulina (it's for looks and a small mineral boost only) and transfer the bowl straight to the freezer. After 20 minutes, remove the "cheese" from the freezer and use a fork to scrape across the surface, forming crumbles.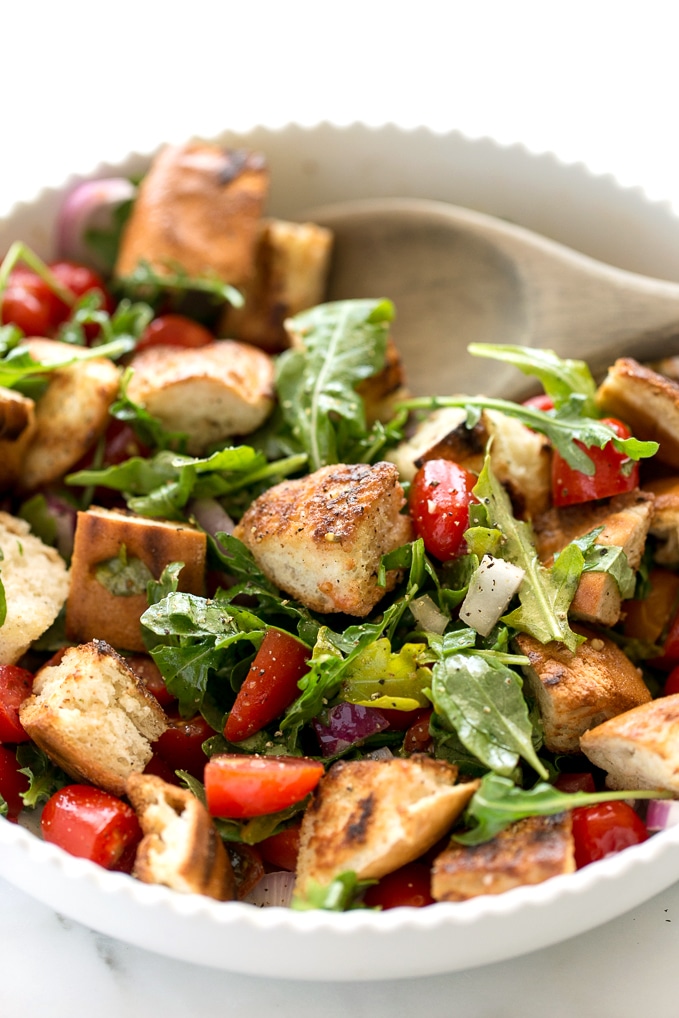 This panzanella is everything. It's refreshing, tangy, crunchy, crisp, satisfying, bright, sweet, savory, and delightful.
Grab your juiciest tomatoes, freshest basil, and finest cold-pressed olive oil, and let's get to it, shall we?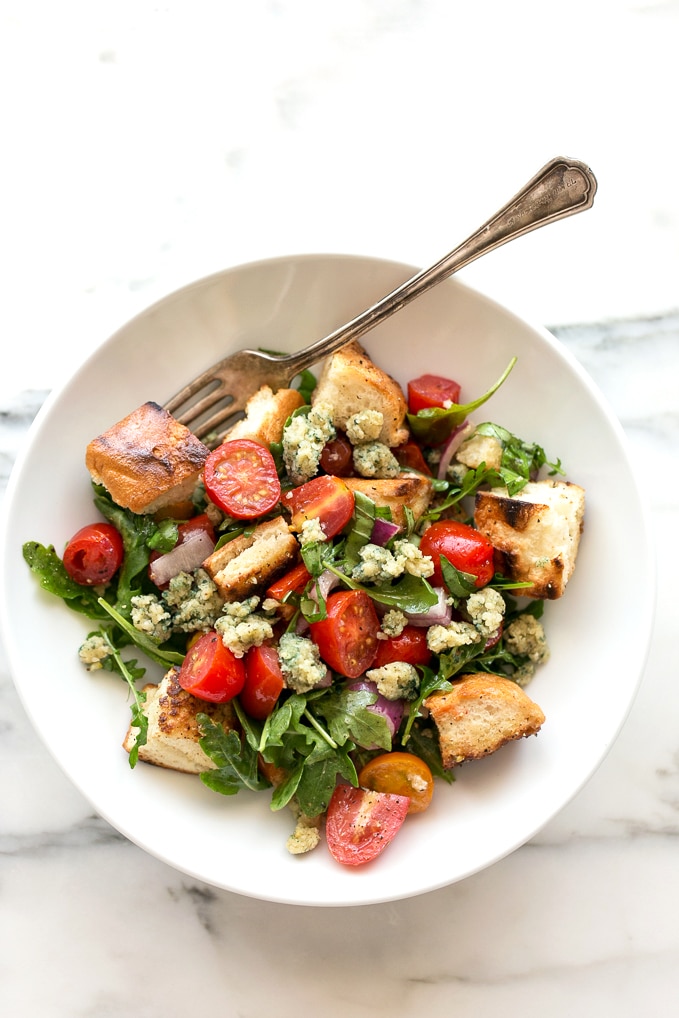 Cherry Tomato Panzanella with Hemp Seed Blue Cheese
Salty, savory vegan hemp seed blue cheese is tossed with juicy tomatoes, peppery arugula, chewy homemade croutons, and a tangy vinaigrette. This vegan panzella salad is packed with the flavors of summer!
Servings
6
–8 side salads or 4 entrée salads
Ingredients
Hemp Seed Blue Cheese Crumbles
1/4

cup

raw cashews

1/4

cup

plus 2 tablespoons Manitoba Harvest Hemp Hearts

1 1/2

to 2 1/2 tablespoons fresh lemon juice, to taste*

2

teaspoons

tahini

1/2

teaspoon

nutritional yeast flakes

1/2 to 1

teaspoon

white miso paste, to taste

1/4

teaspoon

fine-grain sea salt or to taste

Scant 1/16 teaspoon spirulina powder

(optional, for color)
Red Wine Vinaigrette
1/4

cup

cold-pressed olive oil

1/4

cup

red wine vinegar

1

garlic clove, minced

1

teaspoon

dijon mustard

1

teaspoon

pure maple syrup

1/4

teaspoon

sea salt

Freshly ground black pepper, to taste
Cherry Tomato Panzanella Salad
1

small freshly-baked regular or gluten-free baguette (about 8 inches long or 8–10 ounces), halved lengthwise

2

to 3 tablespoons olive oil

Sea salt and freshly ground black pepper, to taste

2

pints

cherry tomatoes, halved or quartered

2

to 3 ounces baby arugula (about 2 heaping cups), to taste

1/2

small red onion, quartered and then sliced

Handful fresh basil leaves, chopped
Instructions
For the Hemp Seed Blue Cheese Crumbles
Add the cashews to a small food processor and process for 20 seconds, or until ground into a coarse meal. Add the Hemp Hearts, lemon juice, tahini, miso paste, nutritional yeast, and sea salt. Pulse 15 times, or until the mixture begins to pull together in large, moist mound.

Scoop into a small bowl. If desired, dot the spirulana powder over the surface and use a toothpick to cut it through the "cheese" several times to create blue-green marbling/streaks.

Freeze for 20 minutes to set and firm. Then, use a fork to scrape along the surface to gently crumble the "cheese". Keep refrigerated until serving.
For the Red WineVinaigrette
In a small mixing bowl, combine all ingredients and whisk together until emulsified. Refrigerate until ready to assemble the salad.
For the Cherry Tomato Panzanella Salad
Meanwhile, heat a grill or grill pan over high heat.

Brush the soft, interior side of each baguette slice with the olive oil and season with salt and pepper.

Once the grill is hot, place the bread, oiled side down on the pan. Grill for 2 to 3 minutes, or until toasted with deep golden-brown grill marks. Flip and grill another 2 to 3 minutes, or until desired doneness is reached. Carefully remove each from the grill and cool slightly. Once cool enough to handle, carefully slice each piece of baguette into 1-inch cubes.

In a large serving bowl, combine the toasted bread cubes, tomatoes, onion, and basil. Pour as much of the dressing as desired over top, and toss to coat. Divide between bowls or plates and top with the blue cheese crumbles. Serve immediately.
Recipe Notes
*Add more lemon juice for a tangier, more traditional blue cheese or less for a more savory, salty blue cheese.