I've been blogging for over six years now, which is just crazy to think about. Since the six-year blogiversary (July 8th), I've been thinking a lot about blogging in general but especially as it relates to the more personal aspects of my life. This summer has been packed with all sorts of memorable life events that I've typically only briefly mentioned in passing. It's not that I haven't wanted to share the stories of those moments within this space, it's just that I've become more selective about the stories I do share as well as the stories I don't. In general, this trend doesn't apply to my own, personal stories. Rather, it's the moments involving family and loved ones that I've become protective toward. To be honest, I'm not entirely sure why this is, it's just something I've noticed.
The reason I'm mentioning any of this is because one of those really special events occurred just this past Saturday. I sat down to write this post last night, intending to stick strictly to smoothie-talk. But given the significance of the festivities, it felt inauthentic and almost dismissive to pretend it was just any old weekend. So I deleted the smoothie talk, closed my laptop, and decided to give the post another go in the morning.
With a fresh set of eyes, I realized this event was too meaningful not to mention and that sharing it would both honor an important life story as well as the two people at the heart of it.
So, without further ado, the reason this weekend was so darn special was because my little sister married the woman of her dreams. It was one of the most love-filled, inspiring celebrations I've ever witnessed, and I had the pleasure of standing by her side as Matron of Honor (MoH) as she said "I do". Her wife is one of the kindest, wittiest, and most warmhearted people I've ever met. She's the type of person whom inspires sincerity in those around her without even meaning to do so, and she is the perfect match for my sister. The amount of love and support at this wedding made grown men, women, and children weep happy tears, and I'm grateful to be part of a place, time, and family where love wins above all else.
So here's to the conclusion of a beautiful weekend, the start of a new week, and above all else, here's to love. . .
This pink smoothie is packed with detoxifying, nourishing, and hydrating ingredients.
So, what's on the roster of goodness, you ask? Great question.
This powerful smoothie is home to an impressive lineup of feel-good fruits and veggies, including beet, green apple, pear, fennel, ginger, lemon juice, parsley, dates (for a touch of sweetness), and coconut water.
Plus, it's hot pink, which only adds to its brilliance in my book.
Because let's face it, it's a challenge to feel anything less than energized when you're staring into a magenta-hued abyss. . .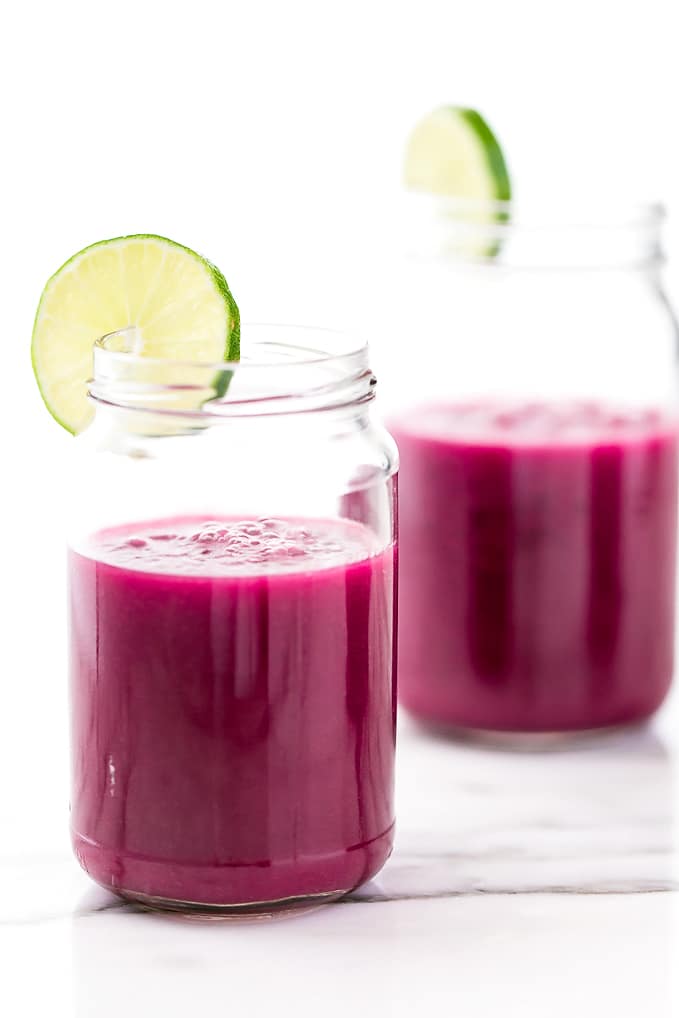 Beet-the-Heat Pink Detox Smoothie
This powerful vegan detox smoothie is home to an impressive lineup of feel-good fruits and veggies, including beet, green apple, pear, fennel, ginger, lemon juice, parsley, dates (for a touch of sweetness), and coconut water. Detoxifying, nourishing, and hydrating goodness all wrapped up in one (hot) pink package.

Servings
3
cups (24 ounces)
Ingredients
1

small granny smith apple, cored and roughly chopped

1

cup

coconut water*

1/2

medium firm-ripe bartlett pear, cored and roughly chopped

1/4 to 1/3

cup

peeled and roughly diced fresh beet, to taste

1/3

cup

fresh or frozen mango chunks (about 1/2 medium mango)

1/3

cup

roughly chopped fennel bulb (about 1/4 of a small bulb of fennel)

1

tablespoon

fresh lemon juice

1

tablespoon

fresh lime juice

Small handful fresh flat leaf parsley, tough stems removed (about 1/4 cup)

(optional)

1

teaspoon

peeled and minced fresh ginger

1

cup

ice, more or less to taste (to cool)

2

pitted medjool dates or to taste **

(optional to sweeten)
Instructions
Add all ingredients except for the dates to a high-speed blender.

Blend on high for 2 minutes or until completely smooth.

Taste and if desired, add the dates and blend again to sweeten.
Recipe Notes
*You can substitute filtered water instead, but it will be less sweet because coconut water has a natural, subtle sweetness. Thus, you may want to add a date or two to make up for the lack of sweetness.
**If your medjool dates are firm or hard (as opposed to soft and gooey), soak them in hot water for 15 to 30 minutes before blending.