They say that you should always eat your frogs first.
I first heard about this concept about seven years ago, and it's stuck with me ever since. If you haven't heard this motivational phrase before, don't worry. No one's recommending you actually eat frogs, just that you prioritize the things you want to do least (i.e., icky frogs) and get them done first, because eating your frogs first makes every other task on your to-do list seem like a piece of cake.
My frogs come in all shapes and sizes, and they often go by the names of Laundry, Unloading the Dishwasher, Writing Long Psychological Reports, and Opening Paper Mail. Sometimes, like right now, I add Getting a Haircut to my list of frogs. I have three theories on the haircut frog: 1) being vegan has made me a bit hippie-ish, 2) I'm just plain aloof and forgetful or 3) I'm going through some sort of delayed quarter-life crisis in which I've equated long hair with youth.
I've learned that when I let  tasks linger over my head for hours, days, or even weeks, they slowly chip away at my soul. Slightly dramatic but seriously, they really weigh on me! On the other hand, when I complete those tasks first in my day or week, I immediately feel empowered, motivated, and ready to take on all of the "cake" tasks.
I usually don't have blog frogs (ha); however, I've had one hanging over my head for months. Many of you have been kindly requesting a better Recipes Page, specifically, one that is organized visually rather than with a mile-long list of hard-to-read links. Although I completely, 100% agreed from the moment someone first pointed it out, I dawdled on the task for-e-ver because making one is pretty time consuming.
But guess what…
I finally ate that frog! In case you missed last night's blog update post, from here on out, you can sort through the original Recipes Page OR you can search through the Visual Recipe Index. The Visual Recipe Index is categorized (e.g., Breakfast, Smoothies, Salads, Vegan, Vegetarian) and when you click on a photo it directs you to the visual index for that particular category. It took about 10 hours (and a few choice words) to complete, but it was so worth the effort.
Even if you don't want to use the visual index for sorting through recipes, take a gander simply for the sake of witnessing the rapid decline of my photography skills as you scroll down the reverse-chronologically-ordered pages. I'm half embarrassed and half proud that the perfectionist in me hasn't gone back to at least re-shoot the photos I took with a Blackberry… and in the middle of the night, it seems. Forgive me for burning your eyeballs with those knockouts.
Now onto more important, non-froggy, and super delicious things like Avocado + Heirloom Tomato Toast with Balsamic Reduction Drizzle.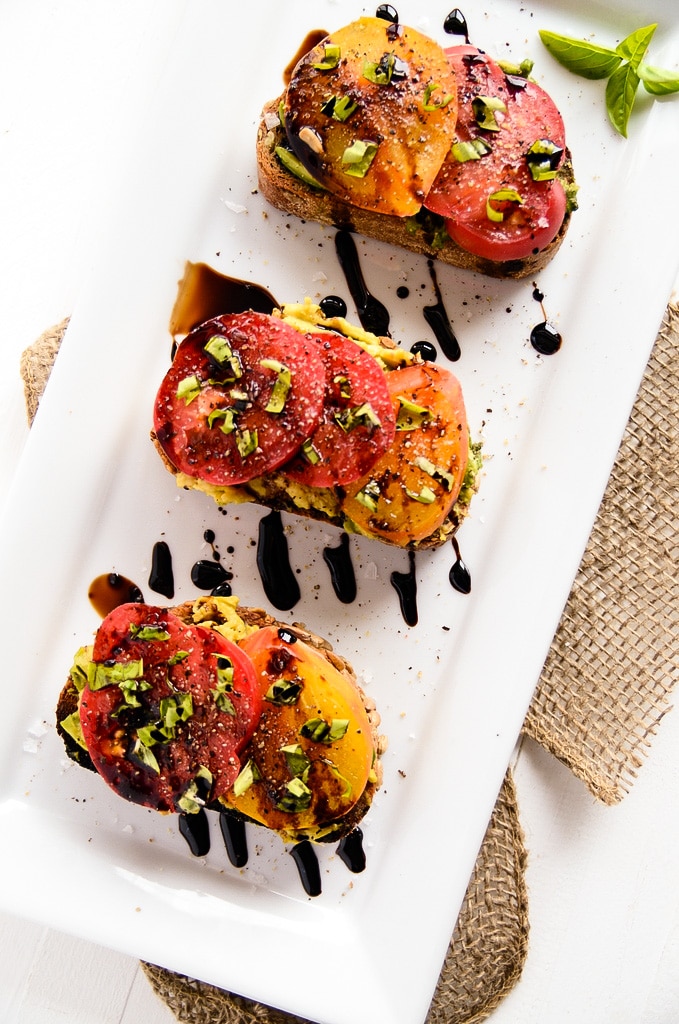 Anything with the word "reduction" in it automatically sounds fussy and impractical to me, but I promise you that this recipe is as simple as they come. That whole balsamic reducing part only takes about 15 minutes and the rest of the recipe can be made while the fussiness is occurring on your stove.
Hearty bread is slathered with olive oil, toasted, and topped with smashed avocado, heirloom tomatoes, and fresh basil. Balsamic reduction is gently drizzled over top and the pretty little toasts are then flecked with sea salt and black pepper.
This is my favorite dish to showcase how flavorful tomatoes can be when they're at their peak during the summer months, and who can resist another avocado toast rendition? Not me. I'm a complete fool for avocado toast, and I can easily eat it 5-7 times a week. No joke. I might have actually exceeded my maximum last week.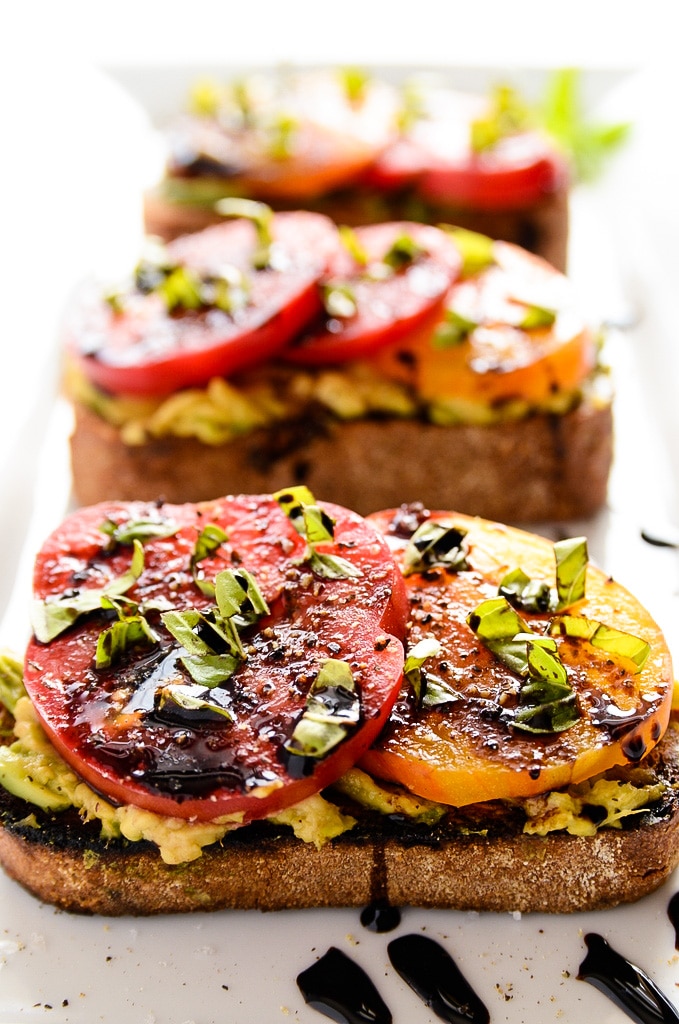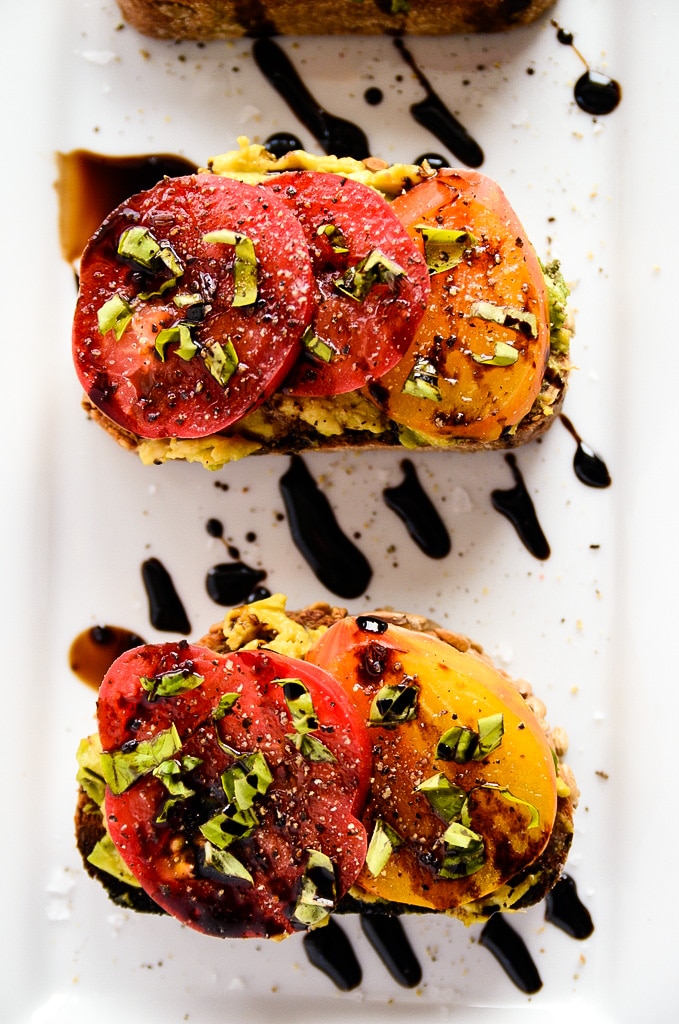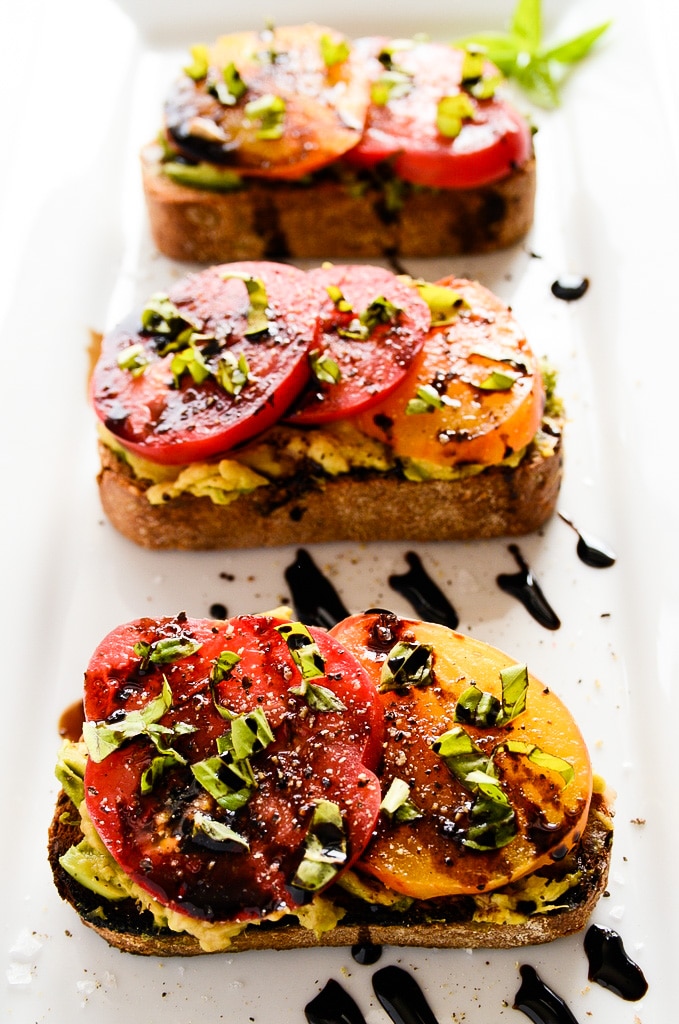 Avocado + Heirloom Tomato Toast with Balsamic Drizzle
Author:
Ashley Melillo | Blissful Basil
Recipe type:
Sandwich, Snack
Ingredients
1/2 cup balsamic vinegar
2-3 slices hearty, seeded bread
olive oil
2 small heirloom tomatoes, thinly sliced
1/2 a ripe avocado
1/4 cup fresh basil, chopped
sea salt
black pepper
Instructions
Make the balsamic reduction by adding the balsamic vinegar to a small saucepan over medium-high heat. Bring the balsamic to a boil, whisking constantly. Reduce heat and simmer for 10-15 minutes or until balsamic has reduced by half and is thick enough to coat the back of a spoon. Make sure you keep an eye on it -- it burns quickly.
Slather each slice of bread with a drizzle of olive oil and toast.
Evenly divide the avocado between the pieces of toast and use the back of a fork to smash the avocado. Layer the sliced tomatoes on top, sprinkle with fresh basil, and drizzle with the balsamic reduction.
Garnish with sea salt and black pepper.
Serve immediately.