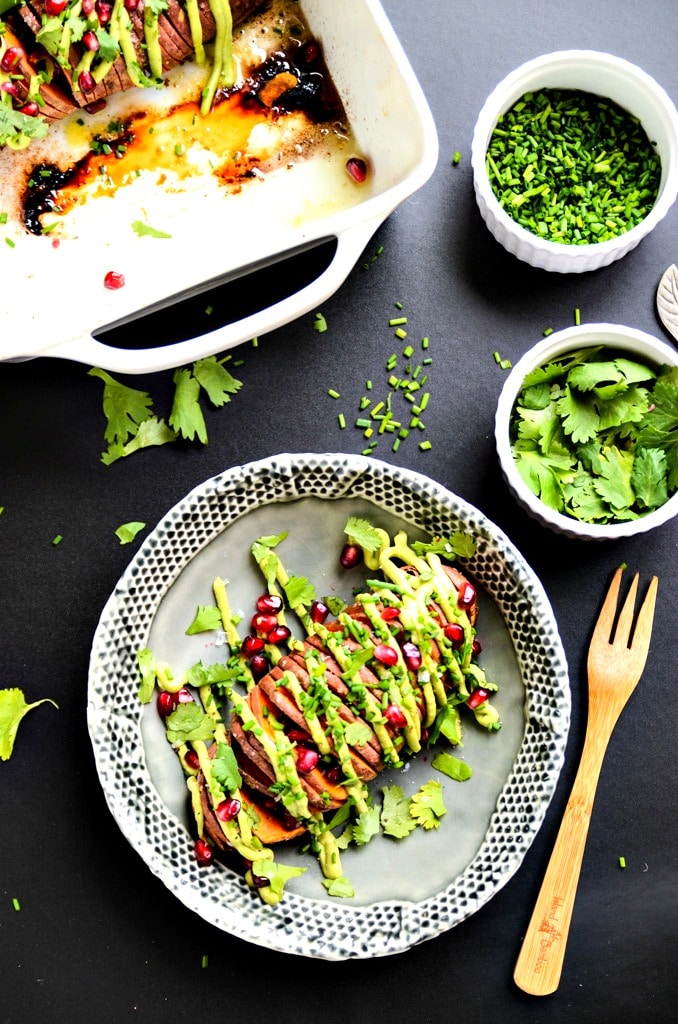 You guys!!! I'm so, so, SO excited about this recipe. It's quickly become one of my favorite dishes because it's warm and comforting (winter) with bright pops of color and flavor (warmer times).
This dish marked my first time making hasselback anything. Seriously! I know, I know. I'm a bit late to the sliced-potato party, but let's call it fashionably deliciously late because this is one for the recipe books. I mean, look…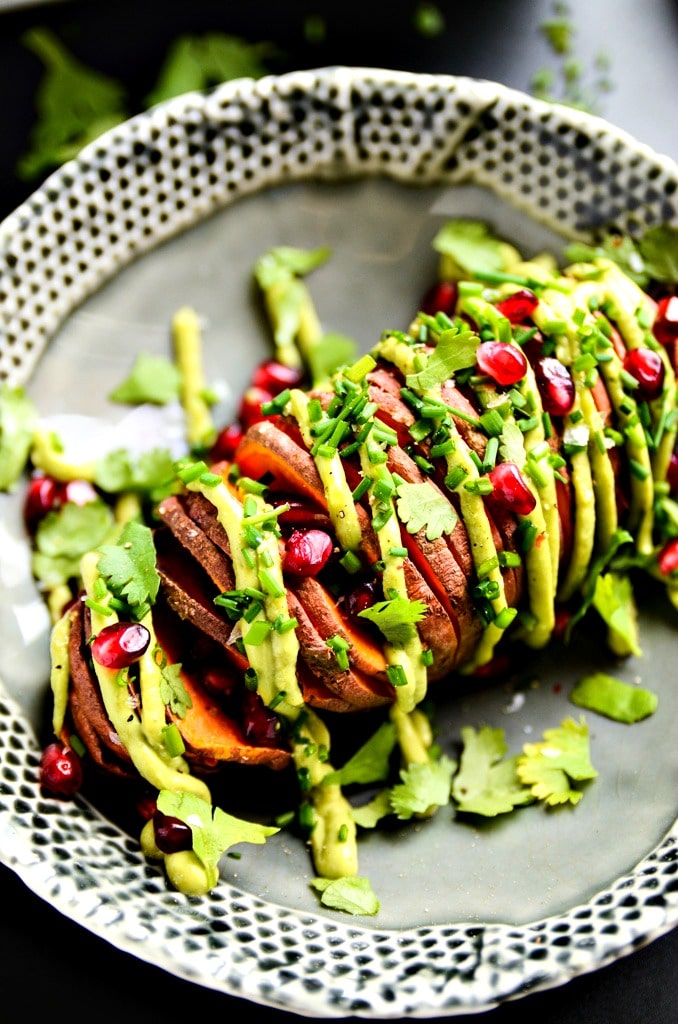 Tender sweet potato slices drizzled with garlicky avocado aioli and sprinkled with pomegranate seeds, cilantro leaves, and fresh chives. It doesn't get much simpler or tastier than this dish.
Plus, did you see the title of this post? Just 7 ingredients separate you from this…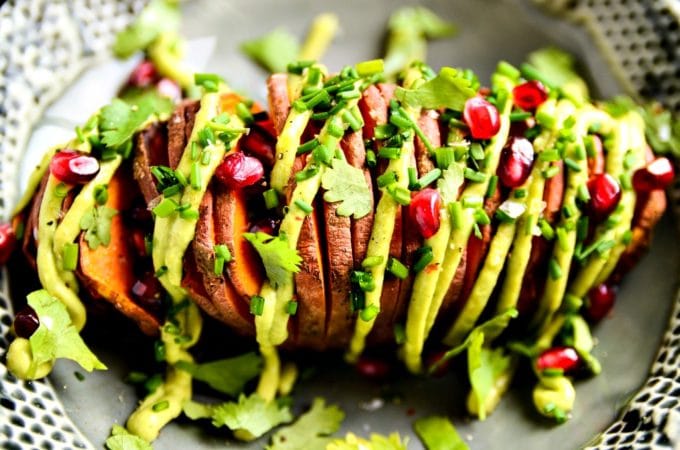 To make this dish, you'll want to procure four medium-sized sweet potatoes that are about identical in size and shape. Try to avoid excessively silly looking or asymmetrical sweet potatoes as they'll be tricky to slice and won't bake evenly. Once you've nabbed your perfect sweet potatoes, you'll meticulously slice them into 1/6-inch-thick slices, being careful to only slice about 3/4's of the way through each. Then, you'll drizzle with olive oil, sprinkle with sea salt, and bake until the potatoes are tender.
While the sweet potatoes bake, an aioli is made by blending avocado, garlic, and sea salt together until it becomes a creamy, mayo-like sauce. To assemble, you'll plate each sweet potato, pipe or dollop on the avocado aioli, and sprinkle on the pomegranate seeds, cilantro, and chives. Then, slice, bite, and repeat.
7-Ingredient Hasselback Sweet Potatoes with Avocado Aioli | vegan, gluten-free
Author:
Ashley Melillo | Blissful Basil
Recipe type:
Entree, Main, Side
Ingredients
For the Hasselback Sweet Potatoes
4 medium-sized sweet potatoes, thoroughly washed
1-2 tablespoons olive oil
sea salt, to taste
For the Avocado Aioli
1 avocado, halved and pit removed
1 garlic clove, minced
sea salt, to taste
Additional Toppings
1 cup pomegranate seeds
1/2 cup cilantro leaves
1/3 cup chopped fresh chives
large-flake sea salt (optional)
Instructions
To Make the Hasselback Sweet Potatoes
Preheat oven to 425F.
One at a time, make 1/6-inch-thick slices down the sweet potato, stopping about 3/4's of the way through. Repeat with each sweet potato, being careful not to slice all the way through.
Place the potatoes in an oven-safe baking dish, drizzle with olive oil, and sprinkle with sea salt. Make sure the olive oil drips in between the slices.
Bake for 45 minutes to 1 hour or until all slices of sweet potato are tender. Baking time will vary depending on the size of your sweet potatoes.
Remove from oven and let cool.
To Make the Avocado Aioli
Scoop the flesh of the avocado into a food processor. Add in the minced garlic and sea salt, to taste. Process for 2-3 minutes or until smooth, stopping to scrape down the sides as needed. Transfer the avocado aioli into a piping bag, if desired.
To Assemble
Transfer each sweet potato to a plate. Pipe or dollop the avocado aioli on top of the sweet potatoes and sprinkle with pomegranate seeds, cilantro leaves, chives, and sea salt. Serve immediately.
Refrigerate leftovers.