Honest to goodness, pistachios have got to be the prettiest nut around. It's as if their soft berry pink and bright spring green color scheme was plucked straight from the color wheel. Hand-picked by the complementary color goddess, indeed.
Of all the many aspects of food photography, nothing brings me more joy than snapping photos of whole food ingredients in nearly unaltered states.
Multicolored heirloom cherry tomatoes tucked into an aqua carton.
Easter radishes energetically strewn about a parchment-clothed pan.
Sliced citrus fruit bent into a rainbow-like arch.
Halved magenta turnips crafted into a meaningful symbol.
Bright red sour cherries tucked into an equally vibrant red colander.
Most recently, a sea of sliced heart-shaped rainbow chard stems.
In my cookbook, if you flip to the page opposite the table of contents, you'll find one of my favorite photos ever: pretty pistachios scattered across a slab of marble. Something about it makes my heart happy.
And yet again, a sprinkling of pistachios meets the snap of a shutter…
That shade of green… It's unlike any other.
Fitting given that this granola's a bit unlike any other, too. It requires just 6 ingredients (salt + cinnamon included) and 10 minutes of your time.
To make it, simply toss together the following:
Shelled pistachios.
Old-fashioned rolled oats.
Pure maple syrup.
Virgin coconut oil.
Ground cinnamon.
Sea salt.
The recipe yields a small batch (about 1 1/2 cups) that's perfect to nosh on throughout the course of a week. This easy vegan granola is crisp, subtly sweet, and offers plenty of that eye-catchingly vivid pistachio green hue.
I love sprinkling it over coconut yogurt with a drizzle of maple syrup, but feel free to go for a simpler, straight-from-the-jar snacking approach.
If you're looking for a spunkier, jazzed up way to serve this snazzy granola, be sure to check back on Tuesday. I'll be sharing a post with not one but TWO breakfast power bowl recipes. One featuring this tasty granola and another that takes a different, ultra-savory approach to breakfast.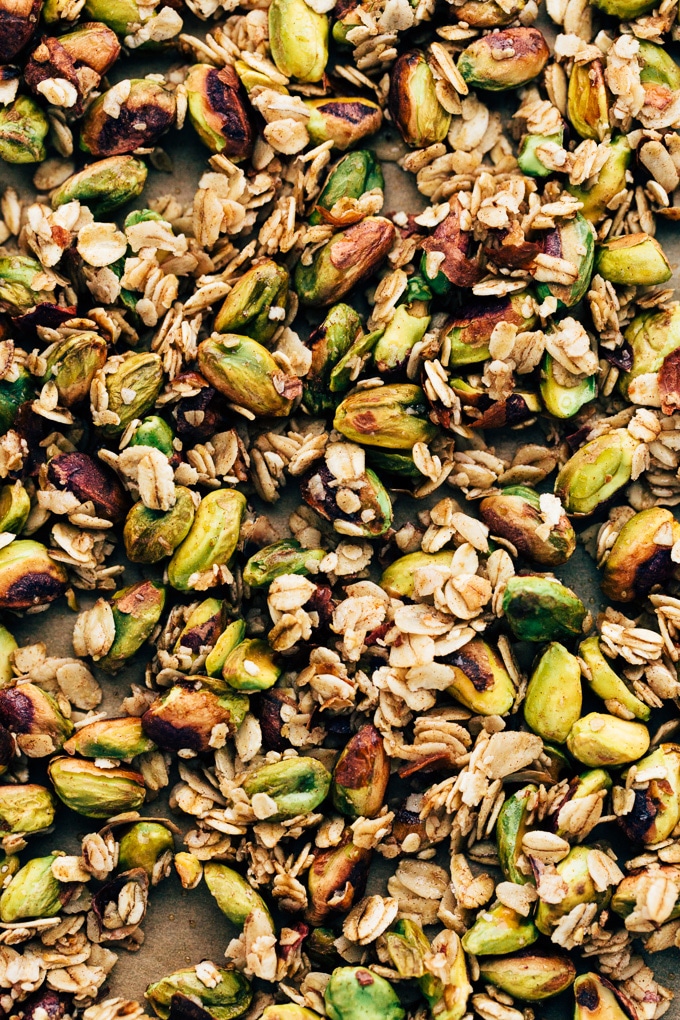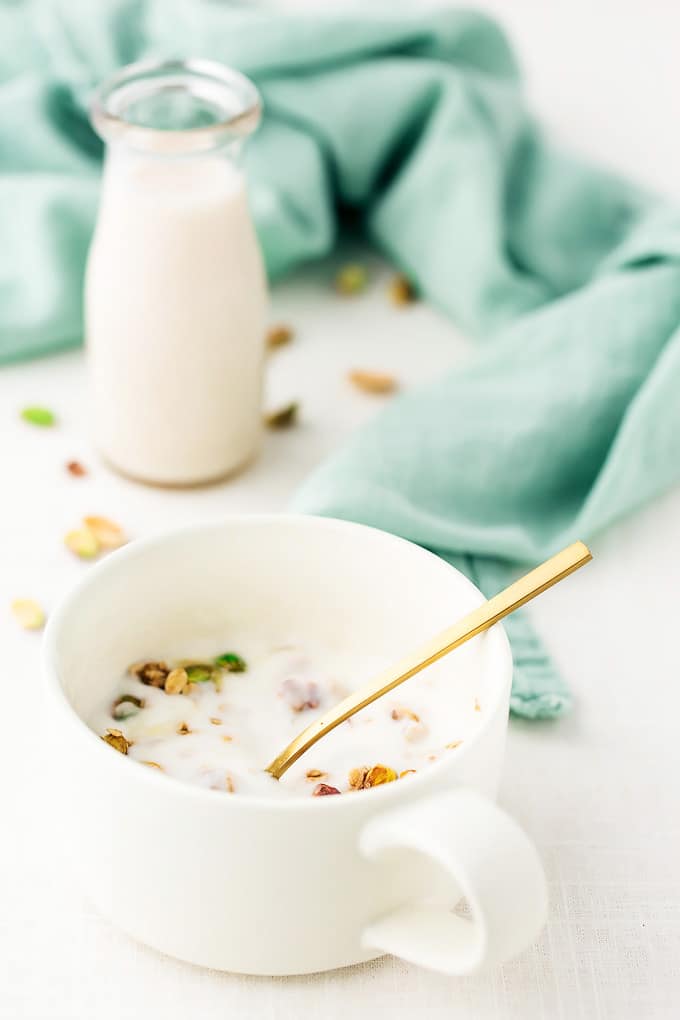 10-MINUTE EASY VEGAN PISTACHIO GRANOLA
This quick and easy vegan granola requires just 6 ingredients and 10 minutes of your time. Shelled pistachios and rolled oats are tossed with a drizzle of maple syrup, pat of melted coconut oil, sprinkle of cinnamon, and pinch of sea salt. The mixture is spread into a single layer in a lined pan and baked for 8 minutes, or until crisp and golden. The result is a granola that's crisp, subtly sweet, and totally snack-worthy. Sprinkle it over coconut yogurt with a drizzle of pure maple syrup or enjoy it straight from the jar.
Servings
5
(1/3-cup) servings
Ingredients
1

cup

roasted unsalted shelled pistachios

1/2

cup

old-fashioned rolled oats

2

tablespoons

pure maple syrup

1

tablespoon

virgin coconut oil, melted

1/4

teaspoon

ground cinnamon

1/8 to 1/4

teaspoon

fine sea salt, to taste
Instructions
Preheat the oven to 350F. Line a small baking tray with parchment paper.

Meanwhile, add all the granola ingredients to a medium mixing bowl and toss, ensuring every last bit is thoroughly coated.

Spread the mixture into an even layer in the lined tray.

Bake for 8 minutes, or until wafting a rich toasted scent and the pistachios are light golden-brown with just the slightest sheen to them. The granola will firm and crisp as it cools, so go on look and scent rather than touch.

Let cool completely on the tray.

Serve with a splash of almond milk or sprinkle over a bowl of coconut yogurt.

Store at room temperature in an airtight glass jar until ready to assemble.